Administrator
Staff member
While COVID-19 poses a threat to world health it has also had a major affect on international business which, according to a recent CNBC report could impact 5 million companies worldwide that rely on the output from Chinese factories and other businesses in the affected areas. According to reports, "Dun & Bradstreet analyzed the Chinese provinces most impacted by the virus, and found they are intricately linked to the global business network. The affected areas with 100 or more confirmed cases as of February 5 are home to more than 90% of all active businesses in China." There is a genuine concern that the coronavirus outbreak could damage the global electronics industry.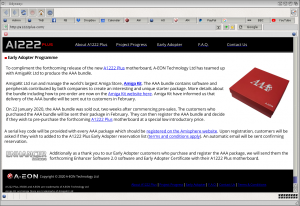 Even A-EON Technology and AmigaKit have been affected with the supply of electronic components and circuit boards drying up. Matthew Leaman informed me that, due to factory shutdowns, several of his new classic Amiga hardware products have not been shipped or are now greatly behind schedule. A-EON Technology's A1222 early Adopter development and release schedule has similarly been affected and Matthew thinks the delays could push production into the third quarter of this year. Of course none of this compares to the concerns over the loss of life but it make you realise, in case you'd forgotten, what a global interconnected world we live in.
In better news, Serial Codes will be emailed to all AAA Bundle Customers next week which will allow them to register for the A1222Plus Early Adopter edition. Matthew also confirmed that the AAA Bundles themselves will now be shipped out the first week of March. For more information and updates check out the
A1222Plus website
.